I originally put these words down on paper over three years ago and only shared my story with a handful of close friends. Each Veterans Day, I recount this trip and what its content means to me – and specifically why November 11th is a day I like to spend alone in nature. While my story has nothing to do with veterans nor did it happen on Veterans Day, the timing is auspicious. With years of hesitation (I typically keep the bad parts of my personal life private) and minor revisions…here's my story.
July 25, 2014 – "The Note"
I made a necessity-driven decision to head west to the mountains one late July evening in northern Colorado. I threw some essentials in my car and made it to camp near Longs Peak trail head a little after midnight. I do not consider myself much of a "peak bagger" as I have only stood on the summit of a handful of mountains – and I certainly did not properly plan for this ascent. But I knew Longs Peak would provide the physical and mental challenge I desperately needed in order to get my head on straight. I was home from duty in Japan for a couple weeks to attend my grandfather's funeral and although sad, his tribute seemed like an appropriate celebration for his 90 years on this planet.
Grandpa Lute and I way back when
I miss my grandpa, but his death did not shock me. That is how it goes, right? You live a long, full life and are surrounded by those who love you at the end? These are the things I pondered, angrily, as the wind swayed me to sleep in my hammock.
I was not angry at grandpa, no. But I was angry at the world…the universe, even. Angry at God, if there was such a thing. I woke up for an alpine start with a vengeance…ready to conquer the mountain I could not yet see as my headlamp illuminated pine trees along the trail. I knew a long and physically taxing day was all that could bring me back down to earth. I needed to surround myself with stunning, rugged, and dangerous landscapes – where life is simple – in hopes of calming the storm churning inside my mind. Eight months and 14 days prior…on Veterans Day (while I was forward deployed, nonetheless) my heart was broken when a woman suddenly left me. She disappeared with no explanation…just, gone. I was angry. And I was far from over it.
She was my best friend and the first woman I ever loved. Like in any long term relationship, we had our differences…but at the end of the day, she was without a doubt my biggest supporter and greatest fan. Over the span of 25 years, she molded me into the man I am today. I have felt a combination of sorrow, confusion, and anger since my mother unexpectedly died last November, and have found my sense of peace only when in the great outdoors. These are the places her and my father nurtured in me a passion before I was even old enough to walk. They are the same places she loved all the way until the end – two weeks before her 59th birthday, to be exact. That's not how it was supposed to go, I fumed, as I pushed onward and upward through the darkness.
Mom and I. Apparently I wanted to be in the Navy even when I was a baby.
Sunrise above tree line
My early start and fast pace put me above tree line by sunrise. With every Indian Paintbrush or Columbine in bloom along the trail, I could almost hear my mother's voice talking about the flowers' scientific names and explaining their medicinal value. "Did you know that lamb's ear, or Stachys byzantina, has antibacterial properties," she would ask with a smile, "and its thick, furry leaves can be used as a compress to help stop bleeding?" Thanks, mom. I will get a bandaid.
Indian Paintbrush in bloom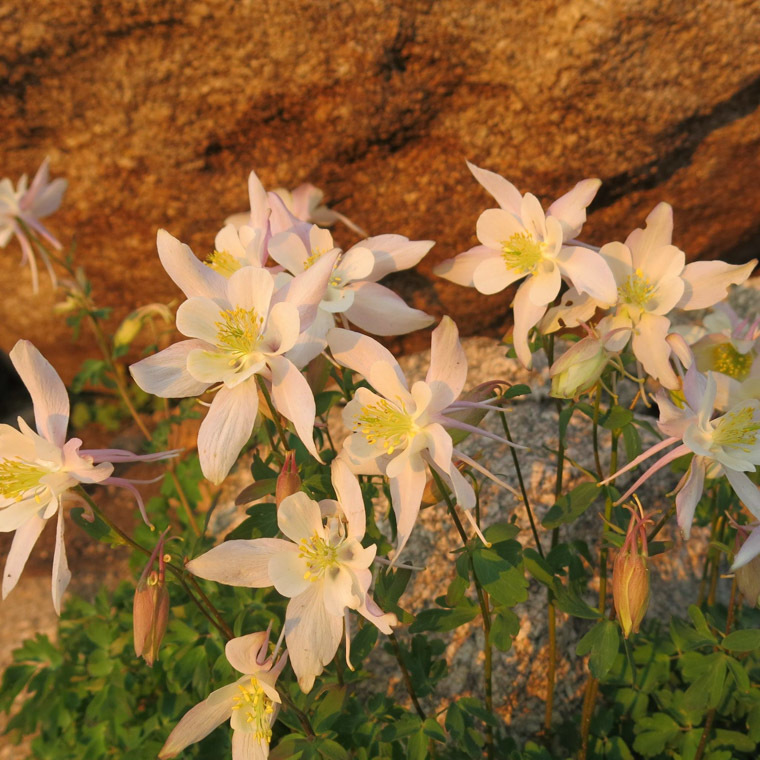 Columbines turned toward morning's first rays of sunlight
I used to give her a hard time about how nerdy her plant obsession was…even though I was fascinated by the sheer amount of knowledge she had about seemingly all of them. Her obsession was actually her passion – one I admire. Her guidance is the reason I enjoy growing a garden, planting trees, and stopping to take photos of pretty flowers. I imagined our discussion about why the trees far below us were strong and tall but then gradually dwindled in size with elevation gain. In the distance, a mother cow elk kept a close eye on her calf as it played in a patch of hard-packed snow. Life – for a handful of miles and countless wildflowers – made sense again.
Elk on the snow
Traveling much lighter with a clearing mind, I wanted to ensure time to climb and descend Longs Peak before potential afternoon thunderstorms engulfed the mountains. Stopping only briefly to snap a few photos, I reached The Keyhole just after 7:00am.
Climbers silhouetted in The Keyhole
Now about 1,000 vertical feet below the summit, I could spare a few extra moments to ensure safety on the more technical Ledges that followed. This portion of the rocky ascent was flanked by near-vertical walls on either side. To my left lead up the mountain on tricky terrain I would be hesitant to ascend even with climbing gear. To my right, the slab spilled down into alpine lakes dotting the valley below. A wrong step here was not an option, I thought, as I carefully negotiated each move up The Ledges.
Alpine lakes below The Ledges
Something unusual caught my eye as I continued along the narrow scramble. Vibrant red specks and larger blotches were splattered across the rocks here and there. My initial thought was the discoloration was due to lichen or perhaps even iron deposits within the rock. A few steps later, I saw chunks of flesh and other organic matter. I hoped the bloody mess was residual from a recent hawk attack on an unsuspecting marmot, but knew no small animals could create such a gruesome scene. I soon realized my worst fears as I followed the blood trail with my eyes another 50 feet down the steep slope to my right.
A man's lifeless body had violently come to rest in a notch between some large rocks after tumbling from hundreds of feet above. Another climber had already called in the incident and a search and recovery team was on their way. A somber hush fell over the dozens of climbers coming and going along that section of the route. No one could do anything else for the dead man below until SAR arrived. Far in the distance, I thought I heard a helicopter but big mountains have a way distorting acoustics so I was not certain. A few minutes later, I could see the brightly colored aircraft circling low above The Ledges and knew the team was beginning recovery efforts.
Looking back along The Ledges
I continued trudging up the steep terrain and wondered if the man had been alone on Longs Peak. If he had friends up there, they would be in absolute shock and disbelief…and would still need to safely descend. If I could help them, I would, but every climber I met on the route did not know the man.
I felt bad for him while pondering why we sometimes go to the mountains alone when we know they are inherently dangerous places. My mind traveled to recent memories of my own close call on California's Mount Whitney earlier this year. I went solo in January as a huge winter storm closed in. Knowing I had only a brief weather window, I pushed up the steep eastern couloir and found myself dry tooling off route near the summit rocks. My axe blew out of a crack and a lucky grab is all that kept me from a similar fate as the man on Longs Peak. Maybe it was not luck…maybe it simply was not my time to go. Either way, the somber scene on Longs Peak and near mishap on Mount Whitney reminded me how short life can be.
On top of Mount Whitney watching a storm roll in from the West
Another hour found me on the summit of Longs Peak which is a huge and relatively flat jumble of rocks that gradually slopes down to vertical faces all around. The sobering incident earlier coupled with thoughts of my mother's Monday morning heart attack and instant death left me even more pensive than ever. Seeking solitude to sit and think about it all, I wandered farther and farther away from the growing crowd at the summit marker.
The Diamond of Longs Peak seen from the trail earlier
I aimlessly hopped from rock to rock until the crowd's noise was drowned out by the wind. A small red bird caught my attention as it flew past and perched on a rock just a few feet away. What was a little bird like that – no bigger than a sparrow – doing at over 14,000 feet? The wind was strong and the summit's harsh conditions did not offer much in terms of sustenance or shelter for the timid creature. At least the bird could fly down when it was ready. I sat and observed it for a while. What was I doing up there? Was it for the challenge? The view? The cliché of feeling small in big places? Being close to nature and therefore close to my mom's spirit? Maybe a combination of all of the above. The bird flew away, and I decided to start my descent as well.
I looked down to find good footing, and noticed a small piece of soiled white paper sticking out from under a thin stone at my feet. I chuckled and thought I had accidentally sat directly over someone's high altitude bathroom. The material I saw must have been a corner of toilet paper. Who would have thought…with all this mountaintop, someone had squatted in the exact spot I sat?
What I thought was TP
Curiosity won as I kicked the stone away only to reveal nothing stinky, but rather a folded rectangle of paper with my first name written on it. After my initial shock and audible "no fucking way," I did a quick 360 degree scan to see who may have left the note. No one was in sight. I had that chunk of Longs Peak summit to myself, and did not know anyone up there that day
My name on the folded paper
I unfolded the page to reveal a list of traits and personality characteristics – some of them I think I portray and others I know I need to work on. Someone, presumably named "Jon" (even spelled the right way!) had placed that piece of paper very intentionally to be found…but only by complete chance and to the close eye.
Jon's list
I refolded and pocketed the note and began my descent with a rush of emotions. I knew that reaching the summit was only half the journey. The steep descent required just as much – if not more – focus (especially on fatigued legs)…but I could not help but let my mind wander. Earlier feelings of anger had subsided to a reserved understanding of that day and my life. As I continued the down climb, I approached the SAR team as they were still navigating the steep rock face below The Ledges where the dead man rested. Armed with knowledge, ropes, and proper gear, I knew they were relatively safe but still risked their lives to recover the body – especially that time of day as storm clouds started to build on the horizon. In passing, I naively offered assistance. What was I going to do without my climbing gear…cheer them on from the sidelines? Go Team! They politely declined and continued their solemn job. I immediately felt a little stupid for asking. Soon they were out of sight as I continued through The Keyhole and down the mountain.
Ten hours after departing my hammock campsite under the stars, I was back to the parking lot under a rain storm. I had ran the final mile as dark clouds unleashed thunder over the mountains. Soaking wet but finally safe in my car, I hoped for the best for the people still on the mountain.
I have no doubt that my day was filled with more than coincidence. Nature brought me a sense of peace and calm even in the face of tragedy, and I was able to hang out with my mom in our own special way. I reflected deeply on my past and considered my future with emphasis on the people and places I hold dear. Ultimately, I realized life is so short and we do not have the final say about when our time is up. Our best-laid plans are great to have, but do not forget to live in the moment when possible. Love yourself, love others, and make the most of every day you have because eventually, it will be over. Whether you push 100 years or do not even see your 60th birthday, your days are numbered…and each day is an incredibly valuable gift.
Lastly, someone I know simply as "Jon" left me a note. Jon, I now have that note framed and hanging on my wall as a daily reminder of my journey on Longs Peak, how far I have come in just a few years, and what I have to look forward to in life. If chance favors us again and you stumble upon this post, Jon, please send me a message. I would love to buy you coffee, thank you for not pooping on top of Longs Peak, and have a long talk about The Note.
The Note, framed